Pre-registration won't start. Why is this even better?
We planned to start a pre-registration for the upcoming UTS beta/tech preview on Dec 1, 2021. It was delayed, and today we're informing our community that the preregistration won't take place.
This happened due to some Google Play requirements we weren't aware of. Google Play requires an app that offers its customers pre-registration, must be released to production within 90 days after beginning of the pre-registration campaign. However, we plan to release the game to the beta release track (not production), which makes it impossible to use the pre-registration feature in that case.
The beta version will be available on Google Play to unlimited amount of testers. So why did we need that pre-registration at all? Very simple. We just wanted to publish in that way some official info, like the official name of the game and a list of main features. Well, given the circumstances, we gonna publish that info in this post 🙂
Official name of the game
The official name of the game (its first part) has never been publicly announced. Until today, this has been a bit of a surprise.
So, the official name of the game is "Alinit UTS: Train Sim Online".
This is the name under which the game will be published on Google Play. We wanted to make the name more "standardized" (because the UTS project includes the Bus Simulator, naming the other part of the game as Subway Simulator wasn't such a good idea).

But will the game also include railroad element (routes, lines, trains) and not just a subway simulation? The answer is yes, it will.
By the way, the word "online" in the name means that the game will support multiplayer mode!
Main features
Here's a screenshot of the main menu: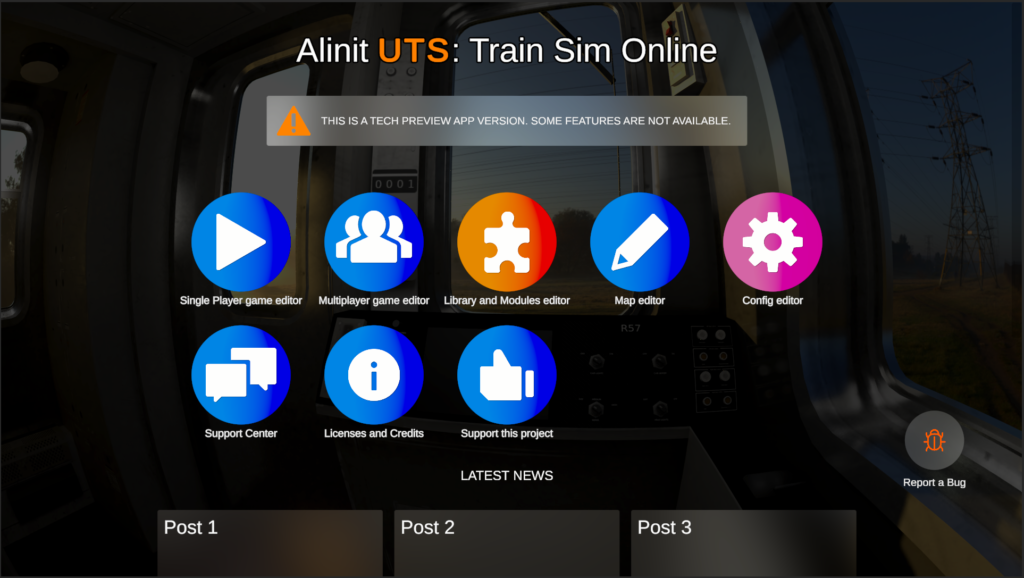 Single Player game editor – "offline" play mode
Multiplayer game editor – online game with other players
Library and Modules editor – edit game libraries (for map editor) and game modules
Map editor – build your own maps
Config editor – edit game configuration
Support Center – get some info about game features, also contains guides and wiki.
Licenses and Credits – some legal info
Support this project – provide us with financial support (starting $1 per month). Our Patreon page will be republished soon!
That's all what we can tell for now. We are working to provide our followers with a gameplay video as soon as it possible. Thank you for your support! Stay tuned.